The delicate skin around our eyes requires special care and attention. With DS V-LINE's revolutionary Eye Cream, you can now protect your sensitive eye area from premature signs of skin aging. Packed with powerful ingredients like resveratrol, cross-linked hyaluronic acid, and a smoothing peptide, this eye cream is designed to nourish, rejuvenate, and restore the natural beauty of your eyes.
The Power of Resveratrol and Youthful Enzymes
DS V-LINE's Eye Cream contains highly concentrated resveratrol, a unique and exclusive ingredient developed to deliver precise results to your skin cells. This potent compound positively influences the release of sirtuins, also known as the "youth enzymes." These enzymes play a crucial role in maintaining youthful-looking skin by promoting cellular repair and rejuvenation.
Tailored Formulation for Sensitive Eye Area
The area around our eyes is particularly sensitive, and that's why DS V-LINE has formulated this eye cream with the utmost care. The result is a luxurious cream that imparts a noticeable softness and smoothness to your skin. If your skin has been stressed or irritated, fear not—this cream offers a regenerating and calming effect, soothing and revitalizing the delicate skin around your eyes.
Banish Dark Circles and Embrace Radiance
DS V-LINE's Eye Cream goes beyond protection and rejuvenation—it brightens your eyes, adding a radiant glow to your appearance. Those pesky dark circles and tired-looking eyes will become a thing of the past. Experience the instant radiance and luminosity that comes with using this exceptional eye cream.
The Magic of Smoothing Peptide
One of the key ingredients in this remarkable formula is the smoothing peptide, which stimulates the skin's natural repair processes. As a result, the fine skin around your eyes gains enhanced elasticity, appearing smoother and noticeably wrinkle-free.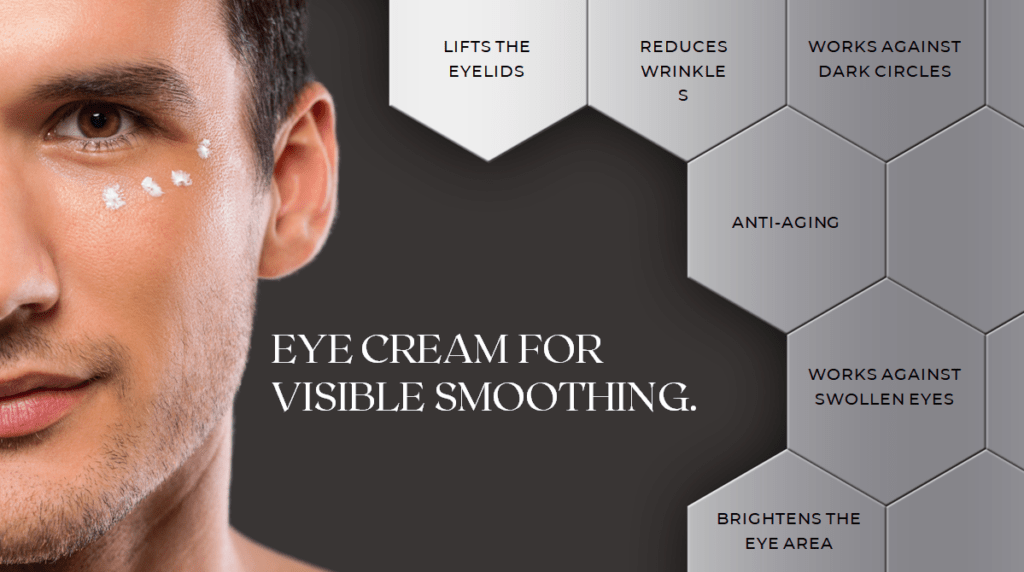 Caring for Your Delicate Eye Area
While DS V-LINE Eye Cream works wonders, remember that the eye area requires gentle care. Here are some important tips for application:
Use a pearl-sized amount of eye cream.
Apply the cream in the morning and evening after cleansing your face.
Avoid rough rubbing or massaging around the eye area, as it can cause irritation. Instead, gently tap the cream into your skin using your fingertips.

The Marvels of Aloe Barbadensis Leaf Juice
DS V-LINE Eye Cream also features Aloe Barbadensis Leaf Juice, also known as Aloe Vera Gel. This natural extract has a long-standing reputation for providing exceptional care for sensitive, dry, and impure skin. Rich in vitamins, minerals, proteins, and enzymes, Aloe Vera Gel offers cooling and highly moisturizing properties that benefit various skin types.
Key Benefits of Aloe Barbadensis Leaf Juice:
Intense Moisturization: Aloe vera gel deeply moisturizes the skin, keeping it supple and hydrated.
Soothing Sunburn: The gel's soothing properties make it ideal for relieving sunburned skin.
Anti-Aging Properties: Aloe vera helps combat skin aging, keeping your skin looking youthful and radiant.
Reducing Infections and Acne: The gel's anti-inflammatory properties can help reduce the occurrence of acne and skin infections.

Unveiling Other Powerful Ingredients:
Resveratrol: Known for its anti-inflammatory properties, resveratrol helps reduce redness and provides strong antioxidant protection against free radicals and UV rays. Its presence enhances collagen synthesis, promoting a more even and firmer complexion.
Argania Spinosa (Kernel Oil): This ingredient supports natural skin functions, offering antioxidant benefits. It stimulates cell regeneration, making it an excellent anti-aging product. Argan oil's potent care properties are especially suited for mature, dry, and sensitive skin, as it improves the skin's protective barrier.
Hyaluronic Acid: Key for maintaining skin moisture and firmness, hyaluronic acid is a vital component of the connective tissue between skin cells. It binds water, ensuring your skin remains adequately hydrated and radiant.
Conclusion:
With DS V-LINE Eye Cream, you can say goodbye to tired, aging eyes and embrace a more youthful and vibrant appearance. The exclusive blend of resveratrol, cross-linked hyaluronic acid, and smoothing peptide, combined with the nourishing properties of Aloe Barbadensis Leaf Juice, make this eye cream a must-have in your skincare routine. Experience the transformative power of DS V-LINE Eye Cream and unlock the beauty of your eyes today!