Introduction:
Welcome to the world of revolutionary skincare innovation! Introducing the MINTT100 Real Fit Program, world's first thread-lifting and banner home treatment care that will transform your skin. This cutting-edge protocol incorporates advanced ingredients, including PCL, PDRN, 2Ł3Da Collagen, 5 PEPTIDE, and Ceramide, to provide a Miracle Barrier Protocol that delivers outstanding results. Say goodbye to sagging skin and embrace the power of elasticity and firmness!
Section 1: The World's First Thread-Lifting Mask
Experience the MB thread lifting care that pulls up sagging skin and enhances your face line.
Discover the strong lifting and barrier-fixing effects of medical-grade PCL ingredients from Evonik, Germany, blended with skin-like triple helix structure raw collagen and 100% natural silk amino acid.
Reconstruct and maintain the skin's moisture barrier with Ceramide NP, preventing moisture loss and supporting healthy skin.
Section 2: Who Can Benefit from Miracle Barrier Protocol
Find out if you belong to the targeted audience, including those with saggy cheeks, double chin concerns, nasolabial folds, or unclear facial contours.
Say goodbye to the fear of surgery and high costs, as MINTT100 offers an easy-to-use home treatment care alternative.
Section 3: The Power of MINTT100 Real Fit Program
Experience the combination of lifting and 3D effects for immediate and long-lasting results.
Benefit from the strong fixation of skin tissue and high durability of MINTT100, ensuring a youthful appearance.
Witness the powerful wrinkle-lifting effects, skin tone improvement, and enhanced collagen production for voluminous, radiant skin.
Section 4: Simplified Thread Lifting Care
Understand the concept of thread lifting and its significance in making the face line elastic and firm.
Learn about the potential side effects and high costs associated with surgical alternatives.
Embrace the Wrinkle Lifting Premium Miracle Barrier Protocol, a step-by-step program developed and used by experts.
Section 5: Miracle Barrier Protocol Point Ingredients
Delve into the details of PCL (Polycaprolactone) – a biodegradable, biocompatible polymer that stimulates collagen production.
Explore the benefits of Raw Collagen and Silk Amino Acids, essential for maintaining skin elasticity and nutrition.
Uncover the secrets of Skintox Wrinkle Fit Expert's Argireline and 243 Da Low Molecular Collagen, effective in improving wrinkles and skin elasticity.
Section 6: Miracle Barrier Protocol Point Ingredients Continued
Reveal the skin-whitening properties of Glutathione, an excellent pigment formation inhibitor.
Learn about PDRN's regenerative abilities, aiding in skin nourishment, moisturizing, and inflammation relief.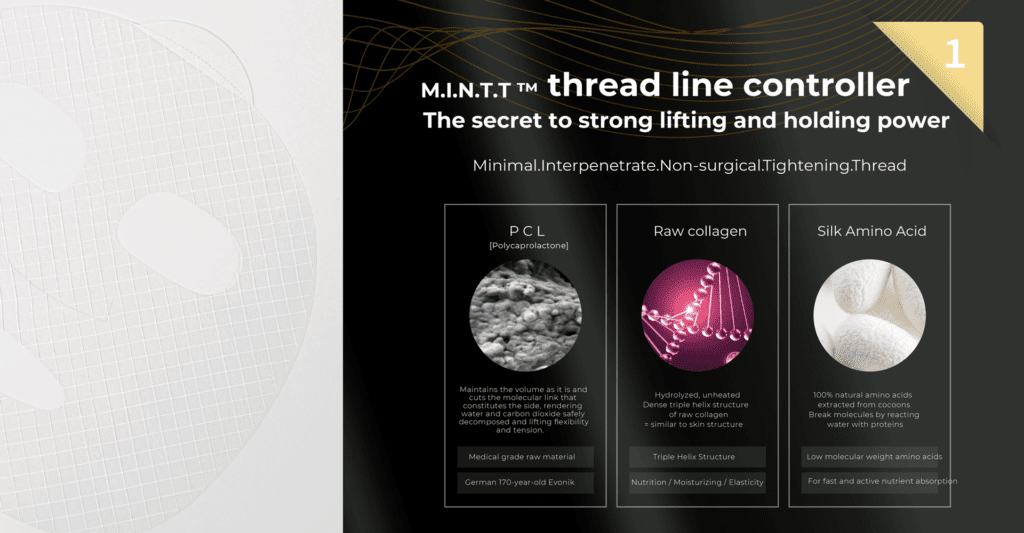 Conclusion:
Experience a new era of home treatment care with the revolutionary DS V-Line MINTT100 Real Fit Program. Embrace the power of elasticity, tightness, and rejuvenation without the burden of surgery or high costs. Unlock the secrets to youthful, radiant skin with the Miracle Barrier Protocol and join the league of beauty world leaders!