Description
The only DNA MINT MASK in the world with filler and Botox content
MY DNA
The genetic make-up of your skin is as unique as you are. Individual information is stored in cells that provide information about how quickly our skin ages and what it needs more of. External influences and our lifestyle are largely responsible for the appearance of our skin. But often we cannot influence these. What we can do, however, is to provide our cells with an optimal supply of nutrients. Mint Mask DNA has high actives suitable for the needs of your skin.
The unique application Mint Mask, which offers skin renewal and facial contouring in one. You can have clear lines with the DS V-LINE DNA Mint Mask technique, which makes it possible for your skin to be younger and smoother. It is now very easy to achieve the perfect result with the application that reduces the fat accumulated under the skin and causes wrinkles! DNA Mint Mask, one of the most preferred home care applications among non-surgical face lift techniques, is a combined technique that offers skin renewal and face shaping together, is applied directly to the sagging area on the skin and the whole face and supports the recovery of the skin.
The first spider web lifting mask in the world MB Lifting technique. It maintains the elasticity of the skin and emphasises the facial contours.
DS V-LINE Mint Mask supports the strengthening of the skin barrier. It has the original M.I.N.T.T (Miniralinterpenetrate non-surgical tightening thread) mechanism.
It contains PCL, a medical raw material with high lifting effect. With raw collagen and 100% natural amino acids, the skin barrier is strengthened and a firmer and younger appearance is obtained.
Contains 4 types of fillers and botox injection substances. Argireline (#botox), 2t3Da molecular collagen, Glutathione (#whitening injection ingredient), PDRN (#Somon DNA).
It provides a protective effect on the skin barrier. Ceramide NP content provides a great effect to maintain moisture in the skin and prevent moisture loss.
Contains 5 different Peptides. Peptides are an ingredient that helps to reduce the effects of problems such as fine lines, wrinkles, skin tone colour inequalities, loss of firmness and fullness.
A healthy skin is a mirror of one's general health.
Effective technique to solve skin elasticity problems! DS V-LINE Mint Mask It has the most important ingredients that protect skin health and provides skin regeneration.
You can see the effect of Mint Mask to give the face firmness and V-shape to the face.
Experts at home! The world's first and only spider web home use mask with filler and botox content.
Protecting your beauty is now in your hands! Mint Mask, which helps to maintain the lifting effect that you can do at home with its easy use and you can see the effect for a long time.
Who should prefer MintMask that protects DS V-LINE DNA?
People who complain about the lines on their face.
Those who cannot have clear lines due to excessive oil on the face.
Those who want to have a bright and firm skin.
Those who want to have an even, blemish-free skin tone.
Spider web DNA Mint Mask that can be done safely at home
DS V-LINE has managed to become one of the most preferred and widely used methods for skin complexity and sagging.
PCL=polycaprolactone is a natural, biocompatible (compatible with human tissues), non-cross-linked (unlike hyaluronic acid fillers), non-toxic, non-allergic or non-antigenic soft biological material. PCL is actually a medical polymer that is well known and has been used as a medical material in medicine for 20 years and can completely dissolve without leaving any residue in the body. The PCL polymer, which will provide the main effectiveness, stimulates the body's own collagen production, especially the production of TypeI collagen, which is much more important for the skin, which will replace it while the CMC gel dissolves within 2 months. Thus, thanks to the newly formed collagen, a much more natural and healthy and long-lasting reconstruction is achieved.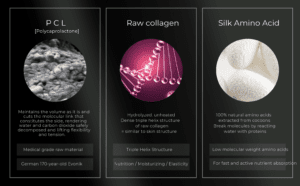 Before application: 1. cleanse the skin with DS V-LINE pH Balanced Mousse Cleanser (you should choose the one suitable for your skin type). 2. Purify your skin with DS V-LINE pH Toner. 3. Remove dead cells from your skin with DS V-LINE ExfoliantBubblePad (the method of use is specified on the package). Dry your skin and follow the steps we have drawn for you to start the DNA Mint Mask technique. For more detailed information and questions, you can get support from the nearest DS V-LINE specialist in your region or from our website www.dsvline.com.
After the application, our recommendation is to massage your skin for 5-8 minutes. Completing this process with the help of Ds V-LINE Lifting Roller will increase absorption more. DS V-LINE V- Lifting Roller cream that you can include in your daily care www.dsvline.com You can review our page. For detailed information, you can get support from our expert team.