COLLAGEN THREAD PROTOCOL
The collagen threads are the latest technology.
The treatment is completely painless. The threads made of
collagen get under the skin with the help of the latest
nanosphere technology, thus enabling a lasting skin
improvement from the inside out and providing a visible result.
– The skin cells are detoxified.
– The skin cells are helped to repair.
– The breakdown of aging toxins in the skin cells is stimulated.
– The promotion of cell metabolism is accelerated.
TDN technology (Transfer Double Nanosphere) originates from biomedical research. It means as much as: Transfer Double Nanosphere Penetrating the skin with active ingredients using TDN technology causes the threads to fuse evenly with the skin. Thus, the lines and wrinkles are evenly filled with the threads. The active ingredients are encapsulated as a means of transport, these penetrate deep into the dermis through intercellular spaces.
A cushion of moisturizing collagen protein is built up under the skin. The skin is improved and regenerated from within. New fibroblasts and collagen fibers are rebuilt by the collagen and fibroin protein sericin of the silkworm. The skin surface becomes smoother.
The older we get, the more the collagen content in our body decreases, because the production slows down. As a result, our skin loses tension and elasticity, and wrinkles slowly form.
Possible causes can be:
Often it is genetic factors that we cannot influence, also when the level of estrogen decreases, collagen production decreases. This is one of the reasons why the skin becomes increasingly wrinkled and dry during menopause.
External influences such as UV radiation, smoking, stress or the wrong diet can also further increase collagen degradation and skin aging.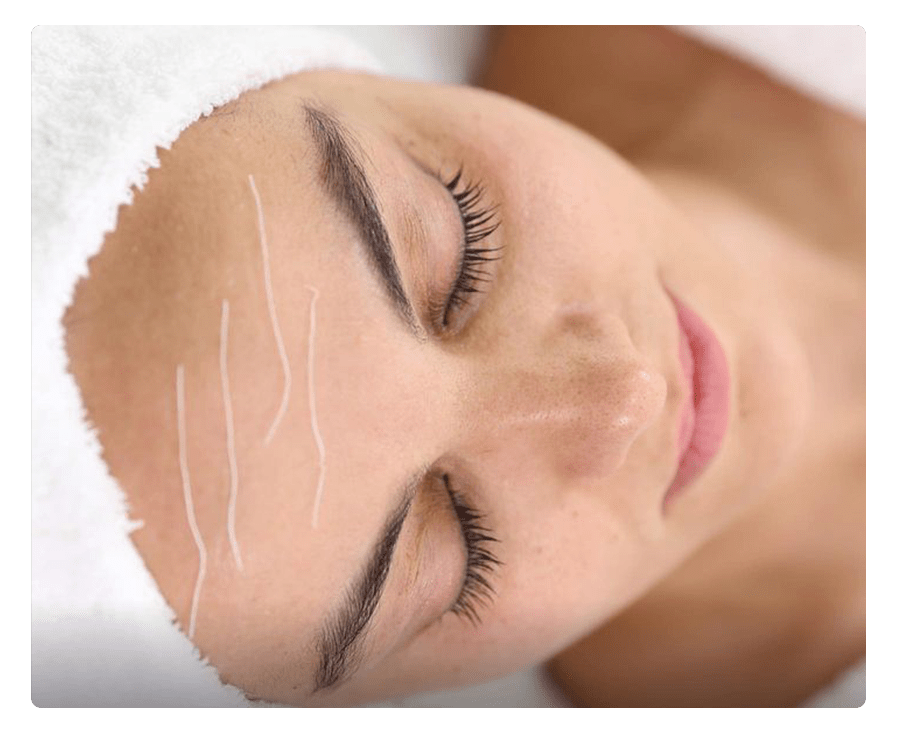 With age, the number of fibroblasts in our skin also decreases, which means that less collagen can be produced.
A deficiency of vitamin C can also be a cause of decreased collagen formation. Because vitamin C both inhibits the breakdown of collagen and promotes the proliferation of fibroblasts as we age.
Due to the decreasing density of the collagen framework, the structure and elasticity of the skin deteriorates, causing it to become flabbier, thinner and stiffer, and wrinkles to appear.
This Non-Surgical form of Treatment
Can not only fill wrinkles, but also treat numerous other skin problems on the face:
Cheeks will be firmed and smoothed
• Upperlip becomes plumper and smoother
• Jaw area appears finer
• Double chin is firmed and smoothed
• Nasolabial folds are reduced and smoothed out
• Lower face is lifted and marionette lines are reduced
In addition to wrinkle reduction, the skin becomes more elastic and firm. The skin is provided with a lot of moisture.
Structure and protection.
Collagen threads are obtained from natural animal fibers or cocoons.
Since collagen consists mainly of proteins and also has a pH value that is very skin-friendly for humans, it is not only a valuable natural product for textiles, but also a popular ingredient in cosmetic products.
Collagen has a very soothing and moisturizing effect on the skin and includes an anti-aging effect.
Meet our Collagen
Threads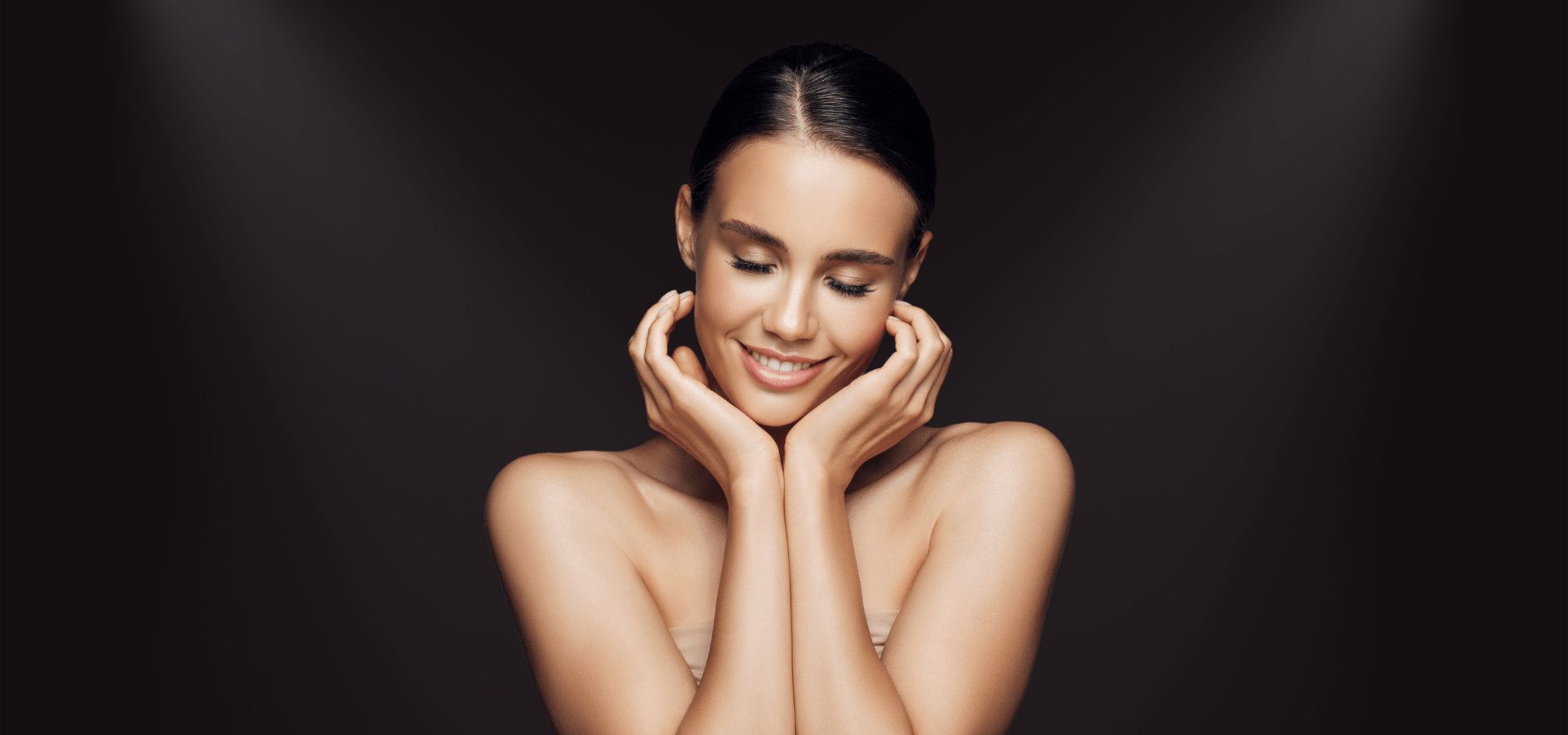 Natural looking lifting with immediate effect 
Reducing under eye wrinkles and dark circles 
Crow's feet will be firmed and smoothed
Cheeks will be firmed and smoothed
Upper lip becomes plumper and smoother
Double chin is firmed and smoothed
Nasolabial folds are reduced and smoothed out
 lower face is lifted and marionette lines are reduced
The treatment is suitable for all women and men who want to stop or at least slow down visible signs of skin aging strengthen and improve skin elasticity. Age is often visible on the face. Collagen thread lifting is a way that has proven to give good results. This application is considered highly effective with an immediate effect and that is incorporated completely painless and invasive.
Kitty Sueters
My name is Kitty Sueters, distributor of DS V-LINE Benelux. This is the story behind DS V-LINE Original Collagen Threads. After the Covid period, I wanted to take a different direction in my salon – focusing more on skin enhancement and doing more of what makes me happy. In my search for a new product, I came across DS V-LINE in Istanbul. These are collagen threads that actually contain bovine collagen and not a substitute for it. Sometimes, when one door closes, another opens elsewhere. DS V-LINE has reignited so much love and passion for the profession of a beautician in me. I'm not ready to bid farewell to my salon, as it's truly too enjoyable. However, as a distributor, I now encounter colleagues with whom I can share all my knowledge and expertise. I'm still learning, which is why every day brings new lessons.
Karin Westendorp
Holland
Kitty Sueters, the distributor from the Netherlands, called me and expressed her desire to bring the DS V-line Collagen threads to the country. Collagen threads? What immediately caught my attention about DS V-Line's Collagen threads is that the product comes from Istanbul, they are the original threads made of bovine collagen, and there is also a patent on them! Excellent! Quality! Let's do it. In May 2022, I was among the first group to be trained by DS V-Line in the Netherlands! Now, one year later, I have achieved excellent results with the Collagen threads. I use them daily for both full treatments and touch-ups.
Elke van Calster
In May 2022, I made the decision to fully dedicate myself to my salon. In July, I discovered the original collagen threads from DS V-Line and promptly signed up for a training session. The fact that these threads work from the inside out immediately captivated me. They offer much more than just wrinkle refinement! They genuinely contribute to overall skin improvement. I am delighted with this treatment, and my clients are extremely satisfied. Ultimately, that's what it's all about!
Claire Rasmussen
DS V-Line is a popular treatment that provides quick results. It is suitable for people of all ages, both young and mature men and women. Unlike Botox, which some clients prefer to avoid, this treatment is painless. My main focus is ensuring that my clients leave the clinic feeling satisfied, with tighter and younger-looking skin. Offering the DS V-Line treatment has been a great success for me, attracting new customers continuously.
AYŞENUR ÇİFTÇİ
AYŞENUR ÇİFTCİ GÜZELLİK VE ESTETİK

,

,
With DS V-LINE Collagen Thread, I attracted a lot of attention from my clients, and after I started to see the results, each of our clients wanted to experience it by bringing others with them. We proceed as a snowball effect.
Since we get immediate results from the products we use, clients leave satisfied from the first session, and thanks to the visible change in their skin, everyone asks what they have done to their skin, which arouses great curiosity.
ZEYNEP SOYDAN
Zeynep Soydan Beauty

,

,
My products are running out fast with the intense interest of my customers. Fortunately, there is the DS V-LINE Online store. I really enjoy referring my customers to the DS V-LINE Online store. Because in this way, I don't need a large warehouse and I can get a revenue share from DS V-LINE. DS V-LINE customer representatives also give my customers the attention and value they deserve, allowing them to shop with pleasure.
ZUHAL ERYILDIZ
DS V-LINE Collagen Rope Protocol has become the most preferred application of my customers with its miraculous results. I get long-term and quality results thanks to DS V-LINE, which protects the skin barrier, provides wrinkles and offers a better quality skin to my customers.

SHAKILA REZAPOUR
I am growing fast with DS V-LINE: After meeting DS V-LINE, both product quality and product variety increased in my salon. In this way, I started to grow rapidly with DS V-LINE by providing customer satisfaction and gaining new customers.